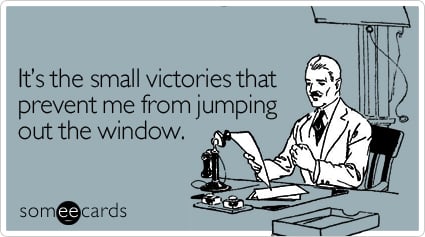 I hope to keep this blog short and sweet. It's both a reflection of my second year of teaching, but also it
might help some of you who have had a frustrating year as well. Maybe you've been here before.
It's been a tough year! In many ways my first year of teaching was more successful than my second year. In my first year I was at a "one man gig" and was responsible for everything from 1st grade to high school (7-12) band. Marching season was a huge misstep of over programming and knowing too little about how to teach it, but concert season went much better, with a 1st Division in Concert and a 2nd Division in Sight Reading. This year I only had to teach band classes in a larger program (and okay, a math class, too), and I was part of a duo. My responsibility here is the Middle School, which we split into two bands, and I took the top band to UIL. We earned a 2nd Division in Concert and a 3rd Division in Sight Reading. On top of that I was less organized all year. The beginners turned out much better this year, but I felt unsuccessful in turning around the band in the same way that I turned around the band at my first job. What happened? Was I a worse teacher, or should I accept that success comes in many forms?
I toiled over why I could turn around the band at my last job, but I couldn't turn this one around. We came close (221 on stage), but we just didn't quite make it. I reflected over the entire year. It was a daily struggle. Most of the strategies that worked for me with my last group didn't work here. So yeah, I really felt like I didn't know what I was doing!
But actually my starting situation was much more difficult. At my first band, the 9-12 graders had a great teacher in the past. Under her direction they achieved multiple 1st Division ratings in Concert and Sight Reading. While the 7th and 8th graders in the group had a couple of rough years of instruction, the high school students helped pull them up throughout the year.
Compare that to this situation. The best these students had ever heard themselves was at a 3rd Division, and that was at UIL, so you assume most of the year it was worse than that. And since this was strictly 7th and 8th graders, there were no students with better experience to help pull them up. That's a significant disadvantage compared to my first job.
Since the first band was a HS Band, I got to give them an intense, two week camp with help from college music majors and a lot of sectional work. That camp was critical to the success of that first year. Clarinets who could barely read and had not played more than 5 notes were suddenly crossing the break and understanding how to read music with a variety of rhythms.
The middle school band this year got to work with clinicians, but not until the Spring. HS Band, on the other hand, had clinicians for marching season as well.
There are numerous other challenges that we faced this year with the MS bands. But the point is that I realized I couldn't strictly compare my teaching this year to last year because of two things. The students I had this year were in a worse place over all than the students I had my first year, and even though I was part of a team, the program was much larger and we had less help (no camp, less clinicians, etc.). So despite my efforts to duplicate the success of my first year, it didn't quite happen, but the situation was very different.
On the other hand, there were some successes outside of UIL. The MS Band marched and performed at the last home football game and got rave reviews. People were surprised, and commented that they "actually enjoyed it". The Christmas Concert was rough, but people again commented that the progress was fantastic. The Sight Reading score was completely my fault. I made the decision to focus everything on the concert program. I was trying to bring them up from a 3rd Division in Concert and Sight Reading to a 1st Division, which most will acknowledge is no small feat. And they almost made it, a 221 on stage. Had I removed a few trouble makers earlier in the year, or had I been able to find the right third piece on the program, they could've made it. Two of the three songs met the standard. And I couldn't have anticipated how difficult the Sight Reading was going to be this year.
So they almost made it. That's pretty good, though. They started the year lacking confidence, and by the time they finished their contest season in San Antonio they'd gained quite a bit of confidence and two of the pieces sounded really good. It was the best they'd ever heard themselves. They were performing with superior ensemble skills as well as shaping phrases for added musicality.
For the end of the year concert we moved up from grade .5 to grade 1, and even tackled a 1.5, all of which they performed very well at the concert. The Spring Concert garnered rave reviews from all the bands, but I've personally received numerous compliments for the top MS Band. People are really excited about the band program now, and not just the HS Band but the MS Band as well. Even our elementary music program is getting positive attention thanks to the great work that teacher is doing.
Oh, a big part of the reason I was so unorganized this year compared to last year was because this year I was constantly coaching numerous students who came in to practice, and I simply prioritized that over paper work and phone calls. Every day during tutorials I had students practicing, anywhere from a dozen to sometimes forty. And kids showed up to practice almost every day after school as well, sometimes staying until after 5 PM. That simply didn't happen at my last job!
The three of us together (elementary, middle school and high school teachers) have worked tirelessly this year to turn around the music program here. Although we couldn't make a full turn around this year, that was probably an unrealistic expectation to begin with. But there was a lot of success in other places. The fact that the community is buzzing about the music program at all three schools is a really neat thing. We fell short of our goals with our beginners, but the coaching system that I'm building at the MS is starting to take off. As more kids earn their "black belt" and become coaches, the entire class progresses faster, just as I had hoped. And those black belts are far and away the best beginners I've had and I can't wait to have them in the MS Symphonic Band next year. They're now working out of book 2 learning cut time, 16th note rhythms and 6/8 while coaching the rest of the class to understanding book 1. I know that one day we will reach a point where every student reaches the level of those kids, and the top half will be working toward those advanced degrees in book 2. It took a lot of work to cultivate the seeds, but they're beginning to sprout, and given a few years it will become a towering tree of musical might!
Anyway, it's hard to still feel too bad after the last quarter of the year. I was pretty beat up after contest season. But the Symphonic Band has had a lot of great musical moments in preparation for the Spring Concert, playing more difficult music than the UIL program. Those 8th graders are going to the HS far better prepared than the class that went before them, which we think will give the HS band a better chance of success next year.
Next year will still be a struggle. I'm hopeful that it won't be as big of a struggle. Maybe next year it will be a struggle similar to the one I had my first year rather than this year. But I think we're set up to be more successful next year with regard to contests and just in general, thanks to the hard work and smaller victories (big in their own way) that we had this year.
So though I've learned a lot this year and have my list of things to improve on, I don't feel bad about the job I did. In fact, I think I can feel good about it. They say that ratings aren't everything, and while we know that to be true, it can be hard to feel like you've done a good job if you haven't pushed your band up to the "superior" standard. It's a hard lesson to learn. But I think that this year I learned that exactly. It doesn't mean I did a poor job. A better, more experienced teacher probably could've pulled it off. But I did everything I could, and over all I think I did a pretty good job. And I feel pretty confident that next year we have a much better starting place and that we'll be able to pull off 1st Division Ratings at contest.
If you had a similar year, I know a 2nd (or 3rd) division can be a tough pill to swallow. But chances are, if you're reading this, you're a teacher that cares a lot about what you do. You care about your students and you want to be your best. There is no doubt that you can find small but significant victories in your year. And hopefully those, in addition to lessons learned, will set you and your students up to be a bigger success next year and years to come.
Thanks for reading, take care and good luck!
Musically yours,
Mr. Cooper